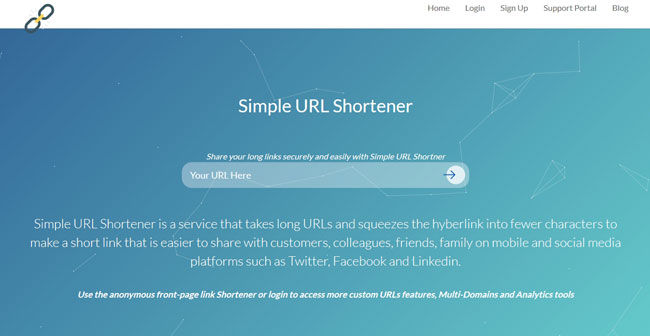 Simple URL Shortener  is link management and hyperlink shortening service that allows you utilize the power of using shorts links for your marketing campaigns and for sharing your digital content online between friends, colleges and social media platforms such as Facebook, Twitter, Snapchat LinkedIn in a easy measurable manner where you can track the performance of your short links and evaluate your results.
We attempt to do this in a user friendly fashion and empower our users with powerful link building tools and on the same time not trying to over-complicate things as we believe that it should be easy to manage your  links and share them, hence our name: Simple URL Shortener.

We offer several different price plan subscriptions which fit every need from our most simple 100% free plan without any strings attached to our more advanced business plans, to fill every need with different features where you can customize your links and track your links with with powerful traffic analytics or to integrate your own systems through our API for automation of your company's link management.
When you use Simple URL Shortener to create short links, you can measure and follow how and where your links are used and which makes it a very valuable tool whether your use our services to run marketing campaign or just want to track the performance of your shortened URL's for the purpose of your needs.